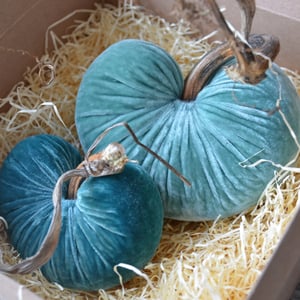 $

68.00
The LoveFeast™ 2013 limited edition HeartGram™ Set is a special gift for any Valentine. The 2013 HeartGram™ set comes with a custom designed postcard by artist Annie Barnett of Be Small Studio.
Each HeartGram™ Set comes packaged in a kraft paper gift box, with crinkle paper and art card. The box is tied with a gorgeous satin ribbon. The HeartGram™ postcard features a Valentine inspired rendering of a peacock feather and the hand-lettered words "so loved". Each postcard is printed on artist's premium cold press paper. The postcard can be delivered blank for you to fill out for your Valentine, or you can leave a note to us upon ordering with you message and we will hand write the note for you.
.
This set contains an approximately 5" Lagoon and 4" Turquoise handcrafted Velvet Plush Heart HeartGram™, with an artistic, organic stem.
The collectible 2013 HeartGram™ is available only in 2013 through February 28th.
Ships within 1-2 weeks.